If you are ready to make the switch to Twigby savings or would like to learn more about how Twigby works, we are here to help! In this guide, we will go through everything you need to know about Twigby and how to get started today.
Who is Twigby?
Twigby is an online-only wireless phone service provider that offers discounted prices on phone plans and cell phones. Twigby customers get great coverage on the nation's largest and most reliable network. To top it off, we are a no contract cell phone provider meaning you don't have to compromise with us. Switching to Twigby is hassle-free and our highly rated customer support team is just one click away to assist you with any questions.
First step, double check coverage in your area.
Your first step to getting started with Twigby is to confirm your coverage. Doing this assures that you will get coverage at home, work, etc.

Next, purchase an affordable Twigby phone or bring your own phone.
At Twigby, we allow you to bring your own compatible phone. There is a good chance your current phone will work with us. You can easily check your phone's compatibility here. If your current phone is compatible, you will be walked through how to easily get it activated with us as well as how to keep your current number or get a new one.
If your current phone isn't compatible, we have a great selection of phones at great prices. Whether you are looking for a flip phone, iPhone, or Android we've got you covered! Take a look at Twigby's phone shop to see the phones we offer.

To keep your phone number or get a new one?
When starting service with Twigby, you have the option of either keeping your current phone number or getting a new one.
If you decide to keep your number, it's very important that you do not cancel service with your current provider. This ensures that the phone number stays yours. When your phone number is successfully transferred to Twigby, service with your old provider will often be automatically cancelled!
To transfer your number to Twigby, you will need the phone number, account number, and your account PIN that is on file with your current provider. You will also need the complete name and address that is on the account. If you are not sure where to find this information, please check our list of references that include where to find this information for almost every carrier in the country. To prevent your number transfer from being delayed it is important to enter this information accurately. After this information is submitted, we handle getting your number transferred to your Twigby service! We will email you when your number has been successfully transferred to Twigby. If for some reason the transfer doesn't immediately go through, we will email you to let you know how to fix it. Usually it involves an incorrect account number, PIN, or a typo.
If you would like to get a new phone number, it's not a problem! We will provide you with a new phone number based on the service address you provide to us.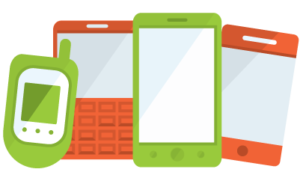 Lastly, create your plan.
As a Twigby customer, you have control over your service. One of many ways that we give our customers control is by having them choose their own plan. Twigby customers can either create their own custom plan or choose from select premade plans. If creating your own plan, the amount of minutes and data you need is up to you. For heavier iPhone and Android users, we recommend our Smartphone Value Plans which are premade plans. Heavy data smartphone users get even more of a bargain by choosing a Smartphone Value Plan over creating a plan. Plus, every plan includes unlimited global texting and international calling for FREE. Keep in mind that everyone has their own individual plan. You simply create the plan that best fits the needs of each user on the account. This means you won't have to worry about sharing your data or minutes with anyone else on the account if you have more than one line. Our plans are priced to fit any budget whether you are a light or heavy cell phone user. You can take a look at our plans by clicking the button below.

Start saving with Twigby today – Try us risk-free!
We believe that we offer the best service and prices for value-seeking shoppers. Don't believe us? Take a look at some Twigby reviews and see what our customers have to say for yourself. We offer a 30-day risk-free satisfaction guarantee. If for any reason you are not completely satisfied within 30 days after activating service, we will completely refund the cost of your phone (if one was purchased directly from Twigby), your plan and any taxes/fees (excludes shipping).
How much could you and your family save? Take a look.
Twigby wants you to be able to save your money for other things that may be more important to you. See how much you could save by making the switch to Twigby.